Peres Center Honors 11 Women with Inaugural Medal of Distinction Ahead of International Women's Day
3 March 2021 – The Peres Center for Peace and Innovation today granted eleven women from a diverse range of backgrounds and communities with its inaugural Medal of Distinction, ahead of International Women's Day on 8 March. The award, which will be granted annually to mark International Women's Day, honors the outstanding contributions of women in key positions and in a variety of fields.
The Medal of Distinction recognizes women who are breaking glass ceilings in their fields and serving as role models for women and girls in Israel and around the world. The citation for the award harnesses the words of Israel's former President Shimon Peres, "You are as great as the cause you serve," and honors leaders who "open doors" and create new opportunities for other women, contribute to gender equality and diversity in the workplace, and work tirelessly for a better world.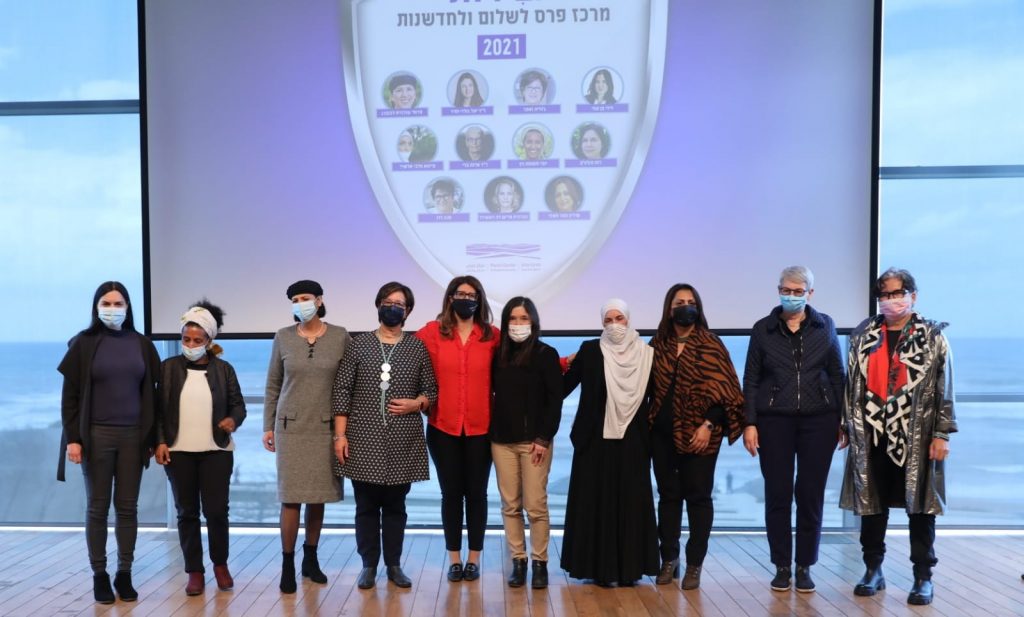 At the ceremony at the Peres Center, the Medal of Distinction was presented to recipients in the presence of Efrat Duvdevani (Director General of the Peres Center for Peace and Innovation), Professor Tsvia Walden (Board Member, Peres Center for Peace and Innovation and daughter of Shimon Peres) and Chemi Peres (Chairman, Peres Center for Peace and Innovation and son of Shimon Peres).
Efrat Duvdevani said, "During the past year, humanity has had to face complex challenges in which we have been privileged to see many brave, talented and creative women bring about significant change in key positions and roles in leadership, medicine, science, education, economics, and a variety of other areas.
"Ahead of International Women's Day, the Peres Center for Peace and Innovation is proud and excited to establish a new tradition, in which we will bestow an annual award, the Medal of Distinction, to women who break new ground, who open doors and create opportunities for other women and contribute to gender equality. They are role models who are working towards creating a better world."
Prof. Tsvia Walden said, "We join the women and men of the world who understand what our father said for many years, that as long as women are not an active and equal part in everything that happens in society and indeed the world, then our world will be worth only half."
Chemi Peres said, "I grew up in an extraordinary home, where both my mother and sister were exemplary women with many accomplishments. Growing up in a house with two such women prepared me better for life. I welcome this new initiative and the tradition we have started here today."
The following women became the first recipients of the Peres Center's Medal of Distinction: Baroness Ariane de Rothschild, Dr. Orna Berry, Julia Zaher, Lili Ben Ami, Maysa Halabi, Hana Rado, Ruth Polczak, Yuvi Tashome-Katz, Professor Shulamit Levenberg, Shirin Natour-Hafi and Dr. Yael Gold-Zamir.
Baroness Ariane de Rothschild is a French banker and philanthropist. She is responsible for the Edmond de Rothschild Foundation's support for projects dedicated to supporting art and culture, health and research, environment, social entrepreneurship and intercultural dialogue, directing funds annually for such initiatives.  She said, "I loved Shimon Peres very much, he made sure to empower women from all walks of life, always made sure to promote diversity and acceptance of the other. I shall always remain grateful to him for the guidance he provided in asserting my own stance, not only as a wife and a mother, but also as a female banker in a business environment that all too often goes on stigmatizing women." 
Dr. Orna Berry is known as the "first lady" of Israeli high-tech.  She is a scientist, high-tech entrepreneur, and senior executive in Israel's science and technology sectors. She was the first woman to make an exit when she sold her company Ornet, which she founded for the European Siemens Corporation in 1995. Berry was also the first woman to serve as chief scientist in the Ministry of Economy, and one of the first women to run a huge multinational R&D center when she headed EMC-DELL.  She said, "The range of women who are here today cover all the areas in need in the country today. With the right commitment and skills we can do it."
Julia Zaher is an Arab-Israeli, Christian entrepreneur, as well as the owner and CEO of the Al-Arz factory. She is the first Arab woman to run a factory and serves as chair of the JDC's 'delivery' fund. In 2019, Globes Magazine named her one of the 50 most influential women in Israel. In June 2020, Zahra announced that Al-Arz would donate funds to an NGO focused on supporting the LGBT community, with the aim of establishing an Arabic outreach program. This is the first time that an Arab-owned, Israeli food company has expressed public support for the LGBT community – an act which sparked controversy but was also undoubtedly groundbreaking.
She said, "My life was not easy, but I set a goal and used all my might to break the glass ceiling. Every obstacle gave me tremendous strength. Throw your fears into the sea. Believe it is your time and do it."
Lili Ben Ami is the sister of the late Michal Sala, a woman who fell victim to domestic violence and was murdered by her partner. Following the tragedy, Ben Ami founded the Michal Sala Forum and began working to shift the discourse around domestic violence from a discussion of victimhood, to a discussion of solutions. Through her work at the Forum, Ben Ami aims to harness the technology and capabilities of the "Startup Nation" to fulfill her vision of putting an end to violence against women.  She said, "Shimon Peres said that International Women's Day should be called Humanity Day because a society that harms women is a society without humanity. A man who harms a woman harms and destroys the future of his children."
Maysa Halabi is a Druze entrepreneur who founded the Lotus project, which trains religious Druze women in software development and assists them in joining global high-tech companies. The program is carried out in a dedicated center in the northern town of Isfiya, enabling the women to work remotely. The first 14 graduates of this program have been recruited and are currently working in leading companies such as Amdocs, Broadcom and Orbit.
She said, "I am proud of what I represent and I am even more proud of the women who believed in a small dream three years ago, despite the difficulty we religious Druze women face, and believed that the impossible can be possible."
Shirin Natour-Hafi is the Principal of the first Arab public high school in the city of Lod. The school is located in the "Railway" neighborhood, known for its low socio-economic profile and high crime rates. When she entered her position in 2009, the school had 150 students, and today there are 7,711 students enrolled in grades 7-12. In 2013, Shirin was chosen as a member of the World Economic Forum's Young Global Leaders, a selective cohort of young professionals from all over the world. In 2020, she received an honorary PhD in philosophy from the prestigious Weizmann Institute.
She said, "In this country I have always been exceptional and the message at home was that I am special and not exceptional. I think that if we raise children to feel special and not exceptional, combined with people who will open doors for us, the sky is the limit."
Yuvi Tashome-Katz is an Ethiopian-Israeli entrepreneur and social activist, with extensive experience in training and community work. She worked as an instructor at the Mandel Institute for Leadership and also worked with the Green Network, an organization that strives for environmental and social change. In 2005, she co-founded the Friends in Nature Association, which aims to form tight-knit communities of young adults, led by successful Israelis of Ethiopian descent, serving as role models to their peers. In light of her activism, in 2011, Yuvi was selected to light a torch in Israel's Independence Day state ceremony on Mount Herzl. In the same year she also received the Prime Minister's Award for Entrepreneurship and Nonprofit Innovation. She said, "When I think of innovation and initiative, I think of how all the women in the villages in Ethiopia were entrepreneurs. They all knew how to do a lot of things. From a place of difficulty, they brought wisdom and created opportunities."
Hana Rado is a leading businesswoman and social entrepreneur. In 2012 she founded "McCann Valley", a digital media agency in Mitzpe Ramon with the aim of creating attractive jobs in Israel's remote periphery. In 2017, Rado led the establishment of "Spring Valley", a digital solutions hub in northern Israel.  She said, "We have excellent professional women who are hidden from view because they live in the geographical periphery. They are part of the future of our country, yet we rarely think of them and that is a loss for us all."
Ruth Polczak is a high-tech entrepreneur, as well as the founder and CEO of "Fincheck", a fin-tech company that enables users to make informed decisions about their expenses, loans and finances. She is also the founder and chairwoman of the board of "She Codes", an Israeli community of over 20,000 female programmers, engineers, and entrepreneurs. The organization has set the goal of integrating as many women as possible in the high-tech industry, ultimately aiming to reach 50% female representation in high-tech within a decade.  She said, "Perseverance, faith and community are important. You can do everything if you just believe and persevere. 100 years ago we could not vote but we have come a long way. You can look to the future and be optimistic."
Professor Shulamit Levenberg is an Israeli scientist and Dean of the Technion's Faculty of Biomedical Engineering. She is the head of the university's stem cell and tissue engineering lab as well as a wife and mother of six. Her areas of work include stem cell differentiation toward tissue vascularization, stem cell 3D organization into composite tissues, use of degradable polymers as scaffolding for cell organization, and 3D tissue bioprinting. She developed a groundbreaking network of blood vessels in muscle, heart, pancreas, and spine tissues, which improves tissue function after transplants. The development is expected to allow, for the first time, a paralyzed body to regain the ability to walk. The development also serves as the basis for Aleph Farms, a startup that "grows" steak using cow cells without harming animals or using meat products.
She said, "This is very moving. I would like to mention a saying of Rabbi Kook, which has always accompanied me – 'Rise up. Rise up, for you have the strength to do so. You have wings of the spirit.'"
Dr. Yael Gold-Zamir is the first Israeli, ultra-Orthodox woman to graduate from medical school and one of the few tech entrepreneurs in her community. She is the founder of "Embryonics," a startup that harnesses AI technology to improve the chances of success of in vitro fertilization. Her data-driven solution is 20% more accurate in predicting successful fertility treatments (positive prediction), compared to dozens of senior embryologists. At the same time, the company's model was able to achieve 30% better results in predicting which fetus would not lead to a successful pregnancy (negative prediction). This company revolutionizes fertility treatments, assisting families in both the emotional and financial aspects of these difficult processes.   She said, "The message of this ceremony is a message of empowerment and female leadership and it is a great privilege to be a part of this voice and message." ————— ENDS————