SciTech 2023: Much More Than a Summer Science Camp
SciTech 2023 brought together 48 students from around the world for unforgettable learning and bonding at the Technion
At the end of a full and uplifting month of summer science camp, it's time to take stock.
SciTech 2023 just ended, a cohort of 48 students, brought together from all around the world for an unforgettable learning and bonding experience at the Technion – Israel Institute of Technology.
From July 17th to August 8th, the students engaged in a hands-on learning experience at the Technion and Madatech, sprinkled with a lot of travel around Israel and Haifa – and, of course, lots of opportunities to taste Israeli cuisine.
This year's SciTech made a comeback after 3 years offline, due to COVID.
Throughout the summer, students visited professors' labs in numerous faculties, including Medicine, Biotechnology, Bioengineering, Chemistry, Aerospace, Computer Science and Mechanical Engineering.
They experienced entrepreneurship workshops at t:Hub, and went on tours of Haifa, Akko, Kibbutz Lohamei HaGetaot and day trips to Jerusalem and the Galilee.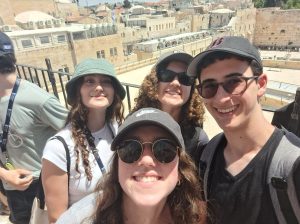 The students visiting Jerusalem
And of course, the students had lots of time to wind down from the science with lots of social activities, swimming at Technion's pool and Shabbat dinners.
The program staff and guides executed a detailed program that brought the campers close together, despite their differing backgrounds and worldviews.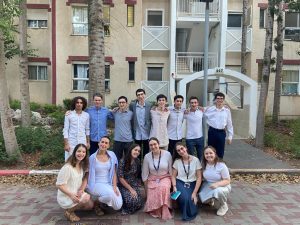 For at least some of the campers, including Shayne Cytrynbaum of northern New Jersey, this was not their first visit to Israel, but rather the first one with a less curated, more complex and mature experience of the land, the people and the geopolitics.
While he already speaks Hebrew and came twice previously on trips, Shayne came a month before the program's start to visit family and to travel.
"My favorite parts of the experience were faculty visits. The education was really great, deep and holistic," he said in an interview.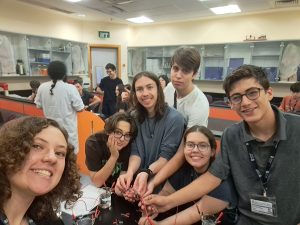 A visit to the Electrical Engineering faculty
For others, it was their first time. Lana Correa, a student from Brazil who came to Israel for the program after a month in Nuremberg, Germany, of all places, admitted she arrived with lots of stereotypes in mind.
Most surprising for her, these stereotypes were quickly dispelled. Visiting a synagogue for the first time, then touching the Western Wall, she found the experience to be truly eye-opening and inspiring.
"Israelis are super nice. I made lots and lots of friends. We had amazing food. I learned about many different perspectives people have of their own countries," she said in an interview at the graduation ceremony.
Both Shayne and Lana spoke at length about the thrill of learning directly from the foremost experts in their disciplines in technology and science. They likewise both sang praises of the friends they made from all over the world, as well as the amazing guides and staff that ran the program.
And while Technion is always at the cutting edge of many subjects, it's the people behind the science and tech that make the place so special.
The students and staff won't soon forget the special experience that was SciTech 2023.