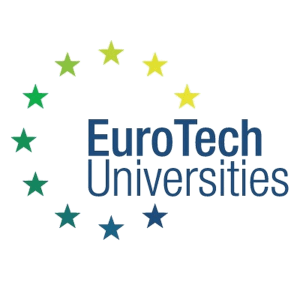 The Technion – Israel Institute of Technology is a member of the EuroTech Universities Alliance, a strategic partnership of leading European universities of science and technology, committed to jointly developing solutions to society's greatest challenges. The Alliance, which fosters excellence in research, aims to educate and nurture global talent in science and engineering to become innovators and change agents of society; to conduct first-class research; and to tackle global challenges, including the UN's Sustainable Development Goals.
By promoting in-depth collaboration across research and education institutions, as well as cultivating innovation and entrepreneurship, the Alliance combines the complementary strengths of its partner universities to jointly achieve multilayered, large-scale initiatives of high impact to society and to industry. The Alliance also works to raise awareness of the opportunities offered by science and technology.
The organization's flagship projects include the European Venture Programme – a unique opportunity for four or five startups from each member university to receive significant funding; and the EuroTechPostdoc2 Programme, which grants postdoctoral fellowships to 70 researchers from member universities.
The Alliance operates multiple working groups that bring together experts from each EuroTech University on a certain topic or overarching theme, and facilitate their collaboration, with the aim to reach a defined objective. Themes addressed by these working groups include space and earth observation, artificial intelligence, COVID-19-related research, and more.
The EuroTech members are:
The Technion – Israel Institute of Technology joined the EuroTech Universities Alliance in January 2019: "We live in an era in which international and interdisciplinary collaborations are vital to the future of scientific research," said Prof. Peretz Lavie, Technion President at the time.