Paving the Path of Opportunity: TechWomen 2022
700 high school students from all over Israel took part in TechWomen 2022, an event showcasing opportunities for young women to pursue STEM academic degrees.
The Technion hosted its 8th annual TechWomen event earlier this month. The institution's flagship women's empowerment event is designed to showcase opportunities at the Technion and to encourage young women from high schools across Israel to pursue academic degrees in science and engineering.
Loyal supporter and passionate advocate of women's empowerment initiatives, Rosalyn August, sponsors the program each year through the Girls Empowerment Mission (GEM). This year, more than 700 young women attended the day-long event which features guest speakers, campus tours and other activities.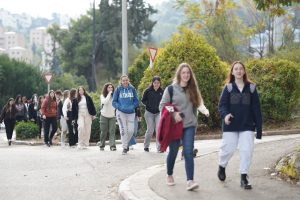 TechWomen 2022 kicked off with an inspiring message from Rosalyn August who explained her own struggles as a young woman attempting to make a career for herself in a male-dominated industry.
"You can do whatever you choose. That's the beauty of being a woman in today's society," said August. "You have my support. I back you."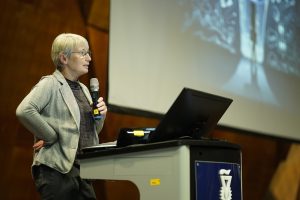 The Technion's newly appointed Vice President for Diversity and Inclusion Professor Adi Salzberg also had an important message for all the young women in attendance.
"You are the future of Israel. It is important for me to tell you that women have no limits except for those imposed by society's traditions, habits, and prejudices," said Salzberg.
Building on the excitement of the inspirational event, Salzberg went on to explain how the Technion is actively working to increase the number of women among undergraduate and graduate students, as well as among faculty. Salzberg said that she also hopes to lead initiatives that will ultimately lead to improved gender representation in high-tech and other industries.
"Studying here can pave the way to a career that's interesting, satisfying, and rewarding, whether you choose the academic world or the industry," Salzberg explained to the young women.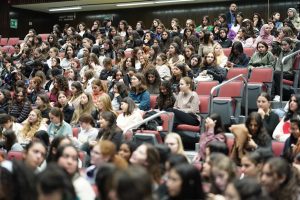 Dr. Efrat Sabach, an astrophysicist in the Technion's Faculty of Physics, had a message of her own to deliver.
"There were people along the way who told me physics is for boys and that it will be hard for me," said Sabach. "These words can make one lose hope, but luckily, I didn't. I stuck by my love for physics. If you have a dream, go for it. Believe in yourselves, ignore background noises, and don't be afraid of challenges."

Assistant Professor Arielle Fischer from the Faculty of Biomedical Engineering and graduate student Vivian Darsa-Maidantchik from the Wolfson Department of Chemical Engineering also spoke to the young women.
"The lectures were interesting and enlightening," said Shiraz Daviv, a high school student from Ashdod. "They gave me many things to think about with regard to my future. They also gave me a new perspective on my academic studies."