Feeding the World with Alternative Proteins
At the forefront of FoodTech: A conference held at the Technion's Faculty of Biotechnology and Food Engineering for World Food Day reveals that Israel is among the global leaders in the search for alternative and sustainable proteins and fats. Still, many challenges lie ahead for our planet (but also opportunities for the global food industry)
Israel is among the global leaders in research and innovation of alternative proteins – an immensely important issue for our planet – as we face the challenge to feed 10 billion people by 2050. This was one of the messages at the World Food Day conference, entitled "Alternative Ingredients and Technologies for a Sustainable Future," hosted by the Technion – Israel Institute of Technology's Faculty of Biotechnology and Food Engineering earlier this month.
Greenhouse gases, deforestation, loss of biodiversity, and overuse of antibiotics are all connected to our growing demand for meat. The challenge is real and requires global solutions.
Home to the only food engineering faculty in Israel
The conference was held in collaboration with the College of Agriculture and Life Sciences at Cornell University, and focused on solutions to alternative proteins, alternative fats, and opportunities and solutions to meet the demands of a more environmentally and ecologically aware population, and our changing dietary habits. Lecture topics were diverse and showcased the best of the Technion and Cornell, as well as commercial startups and investment companies. The conference was organized by Dr. Maya Davidovich-Pinhas and Prof. Avi Shpigelman of the Faculty of Biotechnology and Food Engineering.
Professor Marcelle Machluf, Dean of the Faculty of Biotechnology and Food Engineering, opened the conference by highlighting the Technion's pioneering work in FoodTech – home to the only Food Engineering Faculty in Israel. Prof. Machluf also presented the Technion's new Carasso FoodTech Innovation Center, which is supported by the Carasso Family and Carasso Motors. The center will promote cutting-edge food technologies, teaching, and R&D in the Faculty of Biotechnology and Food Engineering.
"20kg of feed to get 1kg of protein"
Dr. Maya Davidovich-Pinhas of the Faculty of Biotechnology and Food Engineering spoke about the search for alternatives to animal fats – no less important in creating the perfect meatless burger; and Technion Associate Professor Uri Lesmes of the Faculty of Biotechnology and Food Engineering talked about the potential of insects as an alternative protein source, and the need to develop appropriate technologies.
"A cow needs to be fed with 20kg of feed for us to be able to get 1kg of cow protein," Prof. Lesmes said at the conference. "Crickets only need 1.7 kg of feed to give us 1kg of cricket protein."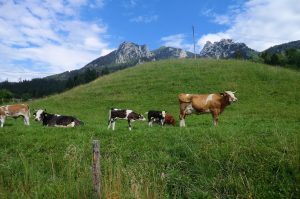 Other subjects included how to harness synthetic biology to produce honey without bees, by Technion Professor Roee Amit of the Faculty of Biotechnology and Food Engineering; and food engineering and cooking based on seaweed by Professor Alex Golberg of Tel Aviv University.
A quarter of global investments in cultivated meat – in Israel
Conference speaker Nir Goldstein, Managing Director of the Good Food Institute's Israel branch, explained the changing trends in consumer markets, saying, "Israel has developed itself … as a global hub for research and innovation for solutions in this field. We are No. 2 in the world in the number of fermentation and cultivated meat companies. 25% of the global investment in cultivated meat in 2021 was in Israel. It's a multidisciplinary field. It's not only food engineering, bioengineering and tissue technology. It could be biochemistry, civil engineering and everything in between."
Three Unilever employees who graduated from the Faculty of Biotechnology and Food Engineering — Ran Harel, Marina Gambrin, Idan Curis — presented some of their company's solutions for a more sustainable world. Much of it focused on sustainable packaging and a wide range of vegan products as part of their talk "Shaping the Future of Food."
Three startups supported by EIT FAN (the European Food Accelerator Network), showcased their pioneering work – from creating bio-functional ingredients mimicking human breast milk (MAOLAC), to controlling naturally-occurring sugar in beverages such as milk (Lamu Ltd., a Technion Drive Accelerator startup), and using technologies for food shelf-life extension (Biotipac).
The conclusion of the event was a look at partners and players in business and science from the United States – from investors such as Stu Strumwasser, M.D., of Green Circle Capital Partners, as well as the Cornell-Technion NY-Israel FoodTech bridge program being developed to connect startups and scientists in both countries.
Cornell Professor Carmen Moraru and Dr. Bruno Xavier both spoke about their respective work in the role of non-thermal processing technologies in solving sustainability challenges in the food world, and AgriTech as a global resource for entrepreneurship in food and agriculture.
Some cutting-edge US startups also presented their innovations: Akorn makes an edible food coating for longer lasting produce; Paragon Pure produces fat alternatives; and The Better Meat Co. makes meat substitutes.
Plenty of food for thought.
Story by Deborah Dwek